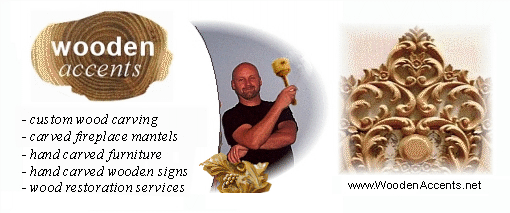 Hand Carved Wooden Corbels

Building an arch, a decorative shelf, bar or simply looking for a way to adorn your kitchen hood or island? Search my wide selection of decorative corbels and brackets and I'm sure you will find what you need. If you can't find what you like I will be happy to carve a custom corbels for you. Any size, any shape, style and decor. Hand-carved corbels are a popular way to provide space by replacing doorways with "corbelled arches" - and a cost-effective way to add period style and personality to a room, window treatment, doorway and even to furniture.
These are all my designs, real wood, hand cut, hand carved corbels.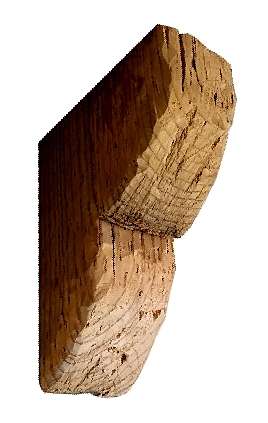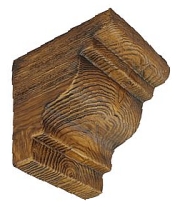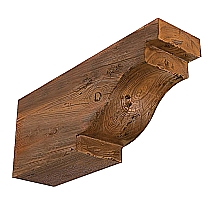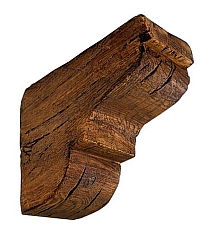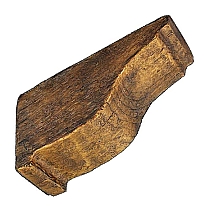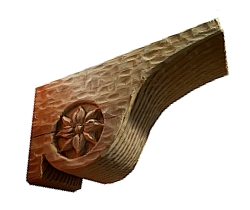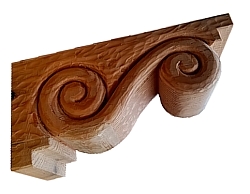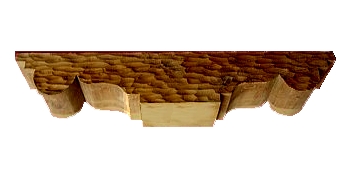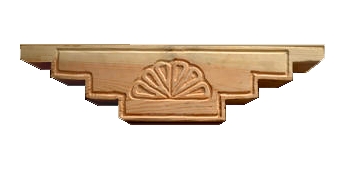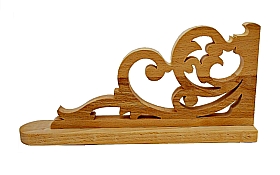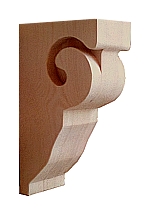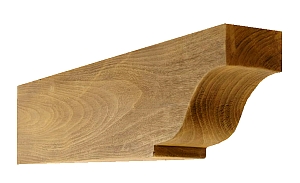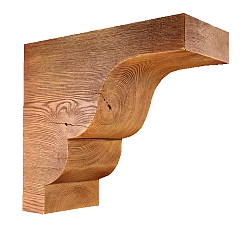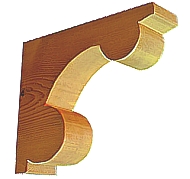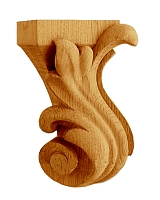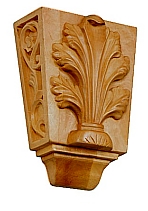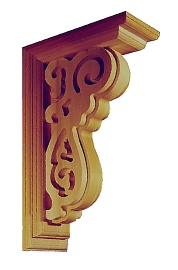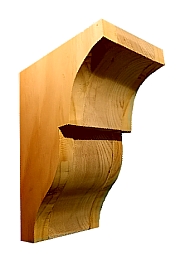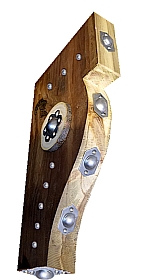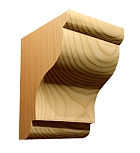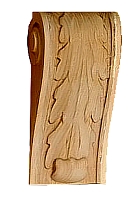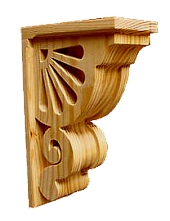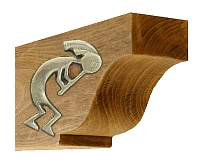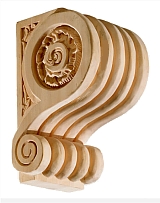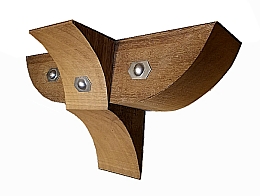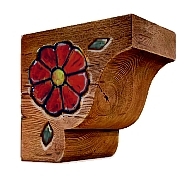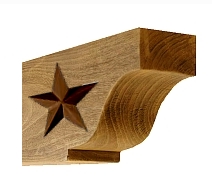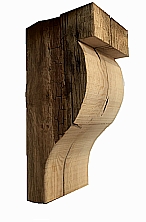 Decorative wood corbels will definitely add a touch of timeless elegance to your work. They're a great way to finish off your custom pieces with a distinctive flair. And with so many different styles, designs, and materials to choose from, it's easy to make everything you produce one-of-a-kind. Corbels have their roots in classical and medieval architecture. Originally they were carved stone supports for bearing loads on walls, but they have evolved over the years, and nowadays decorative corbels are also used in wooden furniture and cabinetry. The word corbel comes from the Latin word for crow, which refers to the curved, beak-like appearance typical to most wood corbels.
Wood corbels can be added to cabinetry or furniture anywhere in the home. Lately they've become especially popular in the kitchen. Many of us prefer to do our entertaining in our kitchen, and they have increasingly become the focal point of the home. Many homeowners want their kitchen to be more than just a functional space - they want a graceful, elegant gathering area that reflects their own tastes and personal styles.
That can be easily achieved with the eye-catching touches that only decorative corbels can provide. One popular application is to put them on the corner of kitchen islands, using large corbels that extend to the floor to bear the weight of the counter top. Medium-sized corbels can also be used to support countertop overhangs, while small corbels can be found under the oven hood above the stove. No matter what the size of the kitchen, carved corbels make great decorative accents.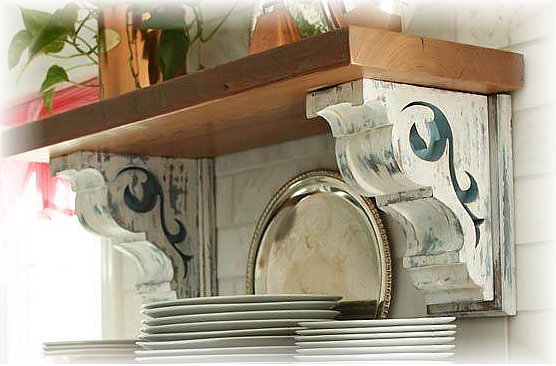 Wood corbels offer the personal touch in other areas of the home as well. They can be used as supports for heavy fireplace mantels in the family or living rooms, and they're ideally suited as supports for shelving for books or family heirlooms. One of the more imaginative uses we've seen is using a decorative corbel as a stand-alone wall-mounted pedestal to show off vases, sculptures, or other pieces of art.
Decorative corbels come in a broad range of styles, from unadorned, simple elegance to elaborate, classically inspired designs. Wood corbels can be only lightly carved, or can be ornately carved with designs showing human faces, cherubs, or fruits and vines. Some popular motifs include acanthus leaves (inspired by Greek Corinthian columns), seashells, and scrolls.
Decorative corbels range in size from six inches to three feet in height, and are made from many different woods. Some popular varieties include red oak, cherry, and hard maple, as well as paint grade. With a virtually unlimited variety to choose from, there are wood corbels for every use and application.
Decorative corbels often take their inspiration from classical motifs and designs. Yet for those whose needs run to less complicated designs, there are many simply carved wood corbels to choose from as well.
Decorative corbels provide just the right finishing touch for any project. Whether you're a hobbyist who wants to make something your family will cherish for generations, or a master craftsman creating a custom-designed room for your client's home, decorative wood corbels will help you get the job done.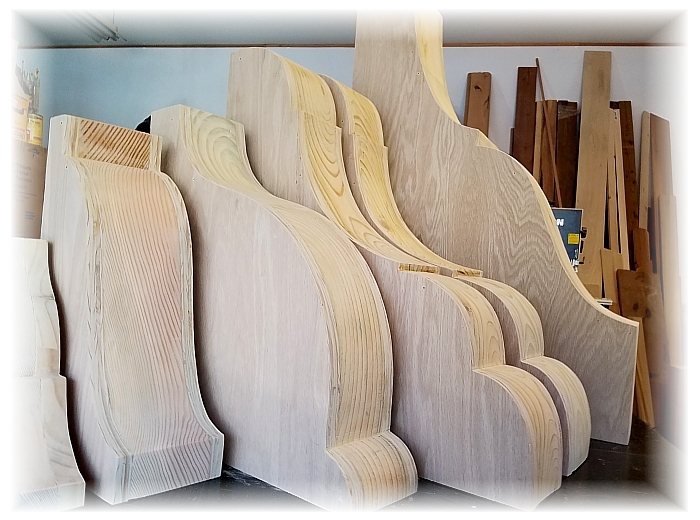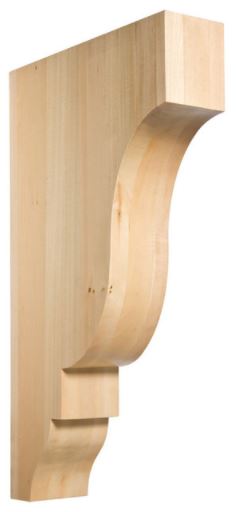 These large corbels are ready to be painted or stained. Some of those will work well
as a decorative element of kitchen range hood or a big arch.

If you are in a process of building or remodeling your house talk to me about your needs and I can design architectural elements that will perfectly fit your space. I've seen plenty of "ill-designed", mismatched styles and sizes of corbels that look like from different era and sometimes become an eyesore. Send me pictures of the space where the corbels should go together with desired dimensions. You can also check our website once in a while for new corbel designs coming up.
Don't hesitate to contact me to talk about any custom work. I will return your email or call the same day so we can discuss the project. I'm always ready tackle another commissioned work.
For all custom projects provide me with a rough idea or sketch and dimensions and details we can discuss over the phone, email or contact form

Darek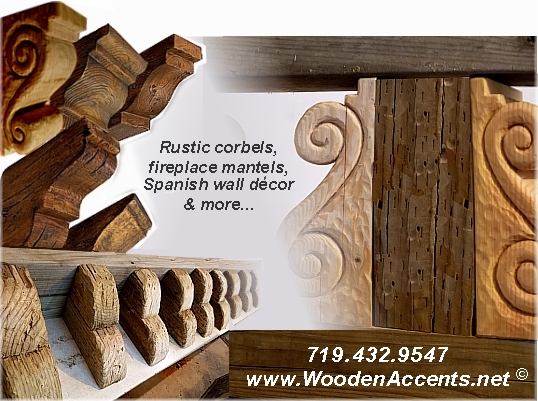 Dear guest don't forget to grab my 10% discount coupon for all types of wood carving
and furniture repair projects! Valid in Colorado Springs, Monument, Castle Rock, Castle Pines, Denver, Black Forest, Falcon, Fountain, Manitou Springs, Old Colorado City, also military discounts, senior discount.

Call to schedule a FREE on site estimate!

Call us to check if we have in stock the item that you're looking for!

719-432-9547


Copyright 2005 - . Wooden Accents - All rights reserved


custom wood corbels made in Colorado Springs, CO. Corbel comes from the Latin word corvus, which describes a large, black bird-the raven, perhaps. One wonders if mythology has something to do with this word catching on in the Middle Ages. Or, perhaps, the corbels were so far up near the roof that they were mistaken for a flock of sharp-beaked birds by a nearsighted nobleman. It's a mysterious word, but knowing its history can give you ideas for your own home renovation. A corbel or bracket is often used to describe the thing that supports a structure, like the bottom bracket on an oriel window, which can be a highly decorative corbel or bracket. Today's corbel can be made of wood, plaster, marble, or other materials, natural or synthetic. Home supply stores often sell reproduction historic corbels made of polymer, a plastic material. What are corbels you might be asking? For those of you who don't know, corbels are structures projecting out from the wall or some other surface, supporting something above it. 1. Corbels Under Countertops This is one of the most common ways to use corbels is to put them under countertops to support an overhang. You can use wood or metal, whatever you feel matches the design of your kitchen best! You will generally see these used on islands or peninsulas. 2. Corbels Under Shelves You can use corbels under open shelves, in your kitchen or somewhere else in your home. These add a beautiful design accent and also give your shelves the support they need. 3. Corbels Under Fireplace Mantle Using corbels under either end of your fireplace mantle is a great way to add a unique touch to what could be a standard looking mantle. You can use them to extend your mantle farther than the fireplace or on the base of the fireplace, the choice is up to you. 4. Corbels Under Front Porch This is not something that people usually think of when they think of ways to use corbels, but it gives it a great architectural accent! Hopefully you don't NEED them to support your porch, but they are beautiful. 5. Corbels Under a Balcony Similar to using corbels under your front porch, using large corbels under your balcony can be unique way to add curb appeal and more depth to the front of your home! 6. Corbels as Bookends This is a really cool way to use new or vintage corbels. You can use them as bookends. 7. Corbels as a Nightstand Laura, from Laura Miller Interior Designs, used an extra large corbel as a night stand base, and I think it is such an amazing idea! You can use smaller ones as well, and it shouldn't effect the strength of the end table. 8. Corbels Under a Kitchen Harth Using Corbels underneath your haerth area of your kitchen is a great design addition. Again, you should not rely on these for the structural support, but it is a beautiful way to accent a custom area of your kitchen! ============================== Corbels are widely used in wood carving in history and today. We make wood corbels out of any wood such as cherry corbels, oak corbels, maple corbels, walnut corbels, ash corbels, alder corbels, mahogany corbels, paint grade corbels, pine corbels, and also in urethane resin or bronze. There is a wide use for custom wood corbels for today's home builder, architect, as well as home designer. Wood corbels are used in kitchens and in kitchen islands to hold up marble or kitchen counter tops. Wood corbels are also used in bathrooms, library interiors of large luxury homes, as well as exterior of large homes and large hotels, casinos and bars. Wood Corbels have always been used in historic building such as Churches, Museums, Castles, and large Estate Homes. A corbel has multiple uses. A corbel is used widely in many applications: Kitchen Corbels, Fireplace Mantel Corbels, Custom Kitchen Cabinet Corbels, Architectural Wood Carving Corbel, Kitchen Manufacturers and Kitchen Designers. Most kitchens make use of Corbel and Corbels for range hoods and kitchen islands. Corbels used in kitchen islands are finished in a variety of colors and stains to meet the requirements and desires of the home builder, designer and home owner.